"BORDER TO BORDER"
revolves around the adventures and mishaps of two young men; Neil and Alex (Mather & Gorence), who meet on a ferry in Seattle, both looking to make changes in their lives. They decide to bicycle their way to Las Vegas together. All the while, followed in hot pursuit by Veronica (O'Connell), Neil's mentally unstable ex-girlfriend who is either looking to rekindle their relationship, or end it once & for all !
Starring
Neil Mather, Justin Gorence, Colette O'Connell, Gary Owen, Curtis Armstrong, Jonathan Silverman, Abe Benrubi, Rue McClannahan, Marla Gibbs , Tim Thomerson, Byron James, K Callens, Rick Hoffman, Cynthia LaMontane, and many more..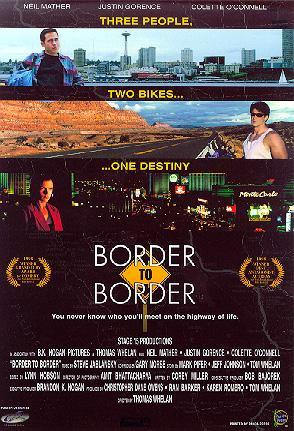 STAGE 15 PRODUCTIONS
360 N Hollywood Way
Suite 104
Burbank, CA 91505
818-954-0005
On the same size budget as "SWINGERS" and shot in over 140 locations, WITHOUT a single permit, the cast and crew traveled over 8,500 miles, spanning from Canada to Mexico to achieve shots of amazing mountainous views, as well as elude the authorities as much as possible! Spectacular moving shots were taken from the back of a 20 year old, tattered pickup, featured in the film. It took STAGE 15 PRODUCTIONS over 43 days of shooting within a 10 month span of weekends and holidays to finish the project .
This 35mm feature film was shot over a 10 month period from the Border of CANADA, through the US and into MEXICO.
For More Information, stories, photos and bio's
go to the official website at